Parent - Toddler Class
**Currently, on hiatus**
This is the perfect opportunity to get your toddler ready for Preschool. We teach educational themes each week and you and your toddler will work on an art project, read a story, spend time in each preschool classroom and have snack with the other students.  Class meets Wednesday mornings for one hour. Age: 2 to 3 year olds. 
3-Year-Old Program
The 3-year-old program offers the rotation into different classrooms during the school day. Various activities are offered to the children considering their shorter attention spans.  The primary goals for the 3-year-olds are socialization, focusing/staying on task, following directions, and working on fine motor skills. Morning classes meet for 2.5 hours per day two days a week, and our afternoon class meets for 2.5 hours per day for three days a week.
4-Year-Old Program
The 4-year-old program exposes the child to many activities that help with different areas of development. The major focus of the 4-year-old program is the curriculum guidelines set forth and mandated by the Ohio Department of Education (ODE), but also include:
Socialization by encouraging sharing of individual thoughts in a group setting 

Heggerty phonemic awareness program

Pre-math skills such as sorting, patterning, sequencing, and simple addition

Building of fine motors through art, drawing, and play

Building gross motors through play, dancing, and exercise
We offer two-morning classes that meet three days a week.  One meets for 3 hours per day and the other meets for 4 hours per day. In addition, we offer an afternoon class that meets 2.5 hours per day for 4 days a week. 

5-Year-Old Program
The 5-year-old class follows curriculum guidelines that combine 4-year-old and kindergarten skills with a focus on pre-reading and literacy skills through the increased knowledge of basic sight words. This class is for students who turn five by December 31 or families who seek an additional year of preschool to build the social and emotional skills to better prepare the child for the academic demands of a kindergarten program. This class meets from 8:30 a.m. to 12:30 p.m. four mornings a week.

Specials
Students benefit from special visitors throughout the year including the Geauga West Librarian, Dina School, a Wildlife Specialist, and representatives from local Fire Departments.
Parent Involvement 
An aspect that is very important for the success of our program and your children.
Parents may become more involved with Community Preschool by volunteering to share their talents and careers when the children discuss units on community helpers and job choices. Some parents share their talents through small enrichment programs like fire safety, dental health, and much more. Parents also sign up to organize one of the holiday parties that we have during the year. The holiday parties are Halloween, Winter, Valentine's Day, and Spring.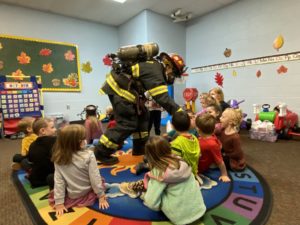 Amazing rooms for students to use
Years of educating young minds
Get In Touch
Location: 12419 Chillicothe Road, Chesterland, Ohio 44026
Phone: 440.729.3522
Email: director@communitypreschoolkids.com
ENROLLMENT
How to Register Your Child at Community Preschool
Thank you for your interest in Community Preschool.  You can enroll your child in any of our class offerings in three steps.
Questions? Email us!
director@communitypreschoolkids.com
Take a Tour!
11984 Caves Rd. • Chesterland, Ohio
(Please call to schedule an appointment.)
Simply mail it back to us at P.O. Box 495, Chesterland, Ohio 44026 along with your $50.00 registration fee to secure a place for your child.
03.
You will receive a welcome letter to confirm your child's enrollment in Community Preschool.